Yoga for Healthy Aging Weekend: Balance & Stability
February 19, 2021 @ 4:00 pm

-

6:30 pm
Yoga for Healthy Aging: Physical Balance and Emotional Stability
A weekend immersion for all levels with Sarah Harvey, Sandy Carmellini, Deborah Saliby and Shari Ser
February 19 – 21, 2021: Friday 4 – 6:30 pm PST / Saturday 1 – 5 pm PST / Sunday 1 – 3 pm PST
To keep ourselves feeling balanced we need yoga! It is quite different to experience physical balance and emotional balance, and yet they share many commonalities. How is it that the practices of yoga – especially asana, pranayama and study of yoga philosophy – can help you hone your experience of balance in your body, mind and spirit? Join us for this immersive weekend to dive into this fascinating topic. We will investigate, experience, discuss and learn together!
This special weekend is offered by our Yoga for Healthy Aging Faculty. Over the three days you will learn which types of poses help with physical balance and investigate the senses that support your body. We will also learn how posture, strength and flexibility can support your emotional balance. From an anatomy perspective, participants will learn about the vestibular system, proprioception and interoception, plus how the senses related to sight, touch, smell and hearing work together.
Throughout the weekend, each instructor will weave yoga philosophy to help you deepen your connection to the Vedic understanding of balance. By the end of the weekend, you will have a tool-kit of poses and a base of knowledge that you can utilize to support your physical and emotional well-being.
You will have handouts to use after the weekend – and access to the recordings for 30 days.
THE SCHEDULE:
Friday 4 – 6:30 pm PST: Orientation to the subject, group conversation, asana and pranayama with Sandy Carmellini and Shari Ser
Saturday 1 – 5 PST: The afternoon starts with physiology of balance and the aging process with Shari Ser followed by a 15 minute break.  At 3 pm we will continue with yoga philosophy, asana and pranayama practice with Deborah Saliby.
Sunday 1 – 3 pm PST: Asana and pranayama with Sarah Harvey
Certainly, this unique weekend will give you the opportunity to practice in a more focused way, develop a deeper relationship with your teachers and build your connections to community.
WHO IS IT FOR?
This course is geared toward those who have at least 6 months of consistent study with an Iyengar Yoga teacher. It is also appropriate for teachers and teachers-in-training.
If you have minor health issues and injuries that is fine.  You must be comfortable getting up and down from the floor with minimal assistance.
If you have any questions about whether this program is right for you, please email info@adelineyoga.com.
TUITION
$195 for the entire weekend – including handouts and a recording to use for 30 days.
Need a pay-what-you-can option? We have one more spot open for this purpose.  Send your contribution here with the note "Healthy Aging Course" and we will get you registered.  You must register by February 15th to use this option.

An hour before the course begins you will receive your unique zoom log-in
First time on Zoom with us? Check out our tip sheet! Our tips will help you get ready for your first class with us.
You can find out more about our Live Online Programming here

ABOUT THE FACULTY:
Sandy Carmellini is a certified Iyengar yoga teacher. She is also a certified Yoga Therapist (c-IAYT), a Craniosacral Therapist, E-RYT500 (Yoga Alliance), Reiki II and aromatherapy practitioner. She has been teaching yoga since 1998 and is the owner/director of Brentwood Yoga Center since 2008. Sandy is a committed volunteer, and served as an executive board member of the National Iyengar Yoga Association (IYNAUS). When she's not on the mat, Sandy loves spending time with her family, hiking with her husband, cooking and eating vegan food, playing with her cats and studying essential oils. She firmly believes that a healthy lifestyle, including yoga and connection to community brings balance to the body, mind, and spirit.
Sarah Harvey is a Certified Iyengar Yoga Teacher and Certified Yoga Therapist with the International Association of Yoga Therapists (c-IAYT). She is a graduate of the 500-hour Teacher Training Program at the Iyengar Yoga Institute of San Francisco, and has specialized training in teaching Yoga for Osteoporosis. A long time member of the Iyengar Yoga community, she has studied and practiced yoga since 1991. She has been teaching classes and private yoga lessons throughout the Bay Area since 2002. Sarah brings a light, humorous approach to her teaching, combined with direct, detailed instructions for each student. Although yoga is central to her life and key to her well-being, she is also an avid sports fan (Go A's! Go Dubs!). Sarah lives in a small cottage in East Oakland with her two cats, and enjoys gardening and gourmet cooking.
Deborah Saliby is a Certified Iyengar Yoga teacher and has been teaching yoga for over 37 years. A graduate of the Iyengar Yoga Institute of San Francisco, she studies regularly with Senior teachers and attends Iyengar conventions.  Her classes are balanced and integrated, leaving students with greater energy, emotional stability and a renewed sense of well-being.  Props are regularly used to support students' access to postures safely and mindfully. Her classes include inversions or variations of inversions, restorative postures, breath awareness and relaxation, all depending on the class level.  She specializes in yoga for back care and yoga for pregnancy. Deborah is also a hypnotherapist and hypnoBirthing instructor.  She recently retired from full time Special Education teaching. When not teaching, Deborah can be found on long walks with her dog and dinner gatherings with family and friends.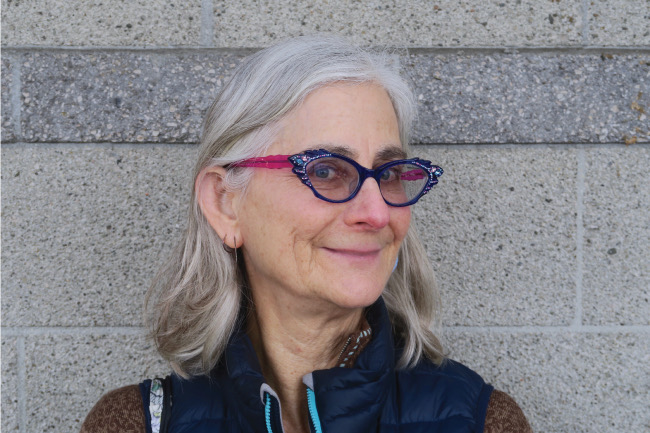 Shari Ser is a Certified Iyengar Yoga teacher, a physical therapist and certified yoga therapist. She has over 35 years of both physical therapy clinical practice and experience teaching yoga for a wide range of medical and health conditions. Shari works full time as a physical therapist and yoga teacher. She is also a faculty member of the Yoga Room's 500 hour Advanced Studies Program. Shari is a certified trainer in Dr Loren Fishman's Yoga for Osteoporosis method and teaches an ongoing Yoga for Osteoporosis class at the Yoga Room.She co teaches a Yoga for frail seniors ongoing at the Yoga Room. She is a graduate of the Professional Yoga Therapy training for health care professionals, and the Adeline Yoga Sadhana Studies Program. Her additional certifications include RYT 500, E-RYT, C-IAYT and PYT. Shari is an avid believer of the power of yoga throughout the years and of it's immense value in maintaining mobility, independence and equanimity as we all age.