Step it Up: Headstand & Shoulderstand Basics with Anneke Faas
July 24, 2016 @ 12:45 pm

-

2:45 pm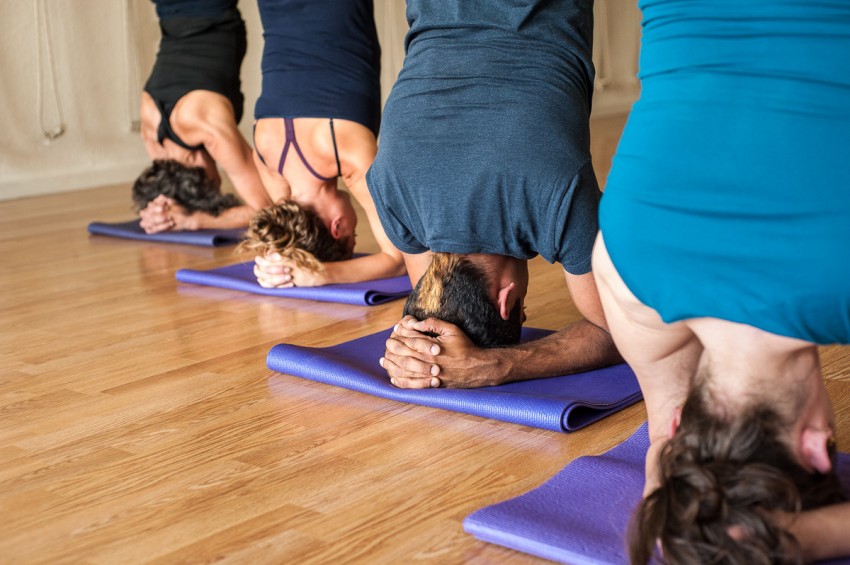 The King and Queen of Asana:  Headstand and Shoulderstand
Headstand and Shoulderstand are two of the most beneficial poses yoga offers, yet many students are intimidated by these fully inverted asanas, or unsure how they should be practiced safely. Join Anneke Faas as we explore how to incrementally and intelligently build up to practicing these important poses, including variations where there is no weight on the head and neck.
In this workshop, we will break down the key components of these poses to understand the building blocks of a stable inversion. These poses can nourish the vital systems, build stamina, strengthen the lungs, purify the blood, improve digestion, and many more positive effects. BKS Iyengar calls Sirsasana, headstand, one of the most important asanas, and that regular practice of this pose widens your spiritual horizons. "King" of asana, it "clears the mind and awakens a calm wakefulness," while Sarvangasana, "queen, or Mother, of asana," can be deeply quieting, restorative, relaxing, and rejuvenating. Prerequisite: some Level 1 yoga experience, stability in basic standing poses and Adho Mukha Svanasana (downward dog).

B.K.S. Iyengar lists many ways Sarvangasana and Sirsasana bring health and vitality to the practitioner. As for why Sirsasana is called the king, he explains that just as a country cannot thrive without a strong and effective king (or head of state), a person cannot thrive without a strong and healthy brain, which some yogis attribute to Sirsasana.
As for Sarvangasana, regular practice of it is thought to create harmony in the nervous and endocrine systems, just as a mother creates harmony in the home and the queen creates harmony in her country. (Apologies that both of these naming conventions could be interpreted as sexist.)
While both poses bring poise, vibrancy, and health to the practitioner, they do it in different ways. Sirsasana heats the body, and Sarvangasana cools it. To achieve the balance we seek through yoga, it's important to have both.
You will have time to ask questions and address any doubts so that you can practice inversions with confidence.
This workshop is part of the "Step It Up!" Series for regular level 1 students who want to progress to level 2 classes.
Please register early – class size will be limited for this workshop
Tuition:
Register early and save! $30 early bird special if registered by July 13
$40 Regular Price / 10% off regular price for Members