Yoga for Healthy Bones with Shari Ser
June 21, 2020 @ 4:00 pm

-

5:30 pm
Yoga for Healthy Bones with Shari Ser
6-session series Sundays 4 – 5:30 pm:  June 21 – July 26
Healthy bones help you move through the world with strength and confidence.  Bones are our supporting structure, they hold us up and literally nurture and protect us. They provide not only structure to our bodies, but help us make life sustaining blood cells.  They protect our fragile organs and allow us to move through space.  They are also beautiful, unassuming and noble. Bones are amazing!  BUT if bones aren't stretched, moved and nourished they become brittle, less porous and prone to breaking easily. This is the key, you have to move and work to stay strong!
Yoga classes focused on bone health can help you in a variety of beneficial ways.  Students who take up a consistent practice tell us they are able to do more things in a day, feel stronger and less achy.
This 6-session series invites you to experience these positive effects.  This Healthy Bones series is excellent for people with osteoporosis and osteopenia.  It is also appropriate for anyone interested in developing their bone health and healthy aging.  You will learn to practice Iyengar Yoga in a safe context even though you are at home.
The program will be held live-online via Zoom. Shari will get to see you in your home setting and advise you on what to do.  You will have time to ask questions. It is very interactive!
Each session is a beginner level Iyengar yoga class with specific focus. The series will include all of the 12 core poses that are part of Dr. Loren Fishman's ongoing "Yoga and Osteoporosis Study".
6 Session Series: Sundays June 21, June 28, July 5, July 12, July 19 and July 26 4 – 5:30 pm
How to Enroll? Purchase the series pass for $85 or use your existing Adeline Yoga pass.  Drop in for $18 per class is also ok.  You must pre-register for each class.  Fifteen minutes prior to class you will receive a unique zoom log-in and specific instructions to login to your class.

Note:  A special Yoga for Healthy Bones pass is offered at $85 for the 6 classes.  This pass is offered at a special discount and is good only for this series.  No make ups will be offered.
Cannot attend the whole thing?  Drop-ins are allowed.  Students may use any regular Adeline Yoga class pass or purchase a $18 drop-in to attend.  Just make sure you pre-register.  Fifteen minutes prior to class you will receive a unique zoom log-in and specific instructions to login to your class.
First time on Zoom with us? Check out our tip sheet! Our tips will help you get ready for your first class with us.

ABOUT THE INSTRUCTOR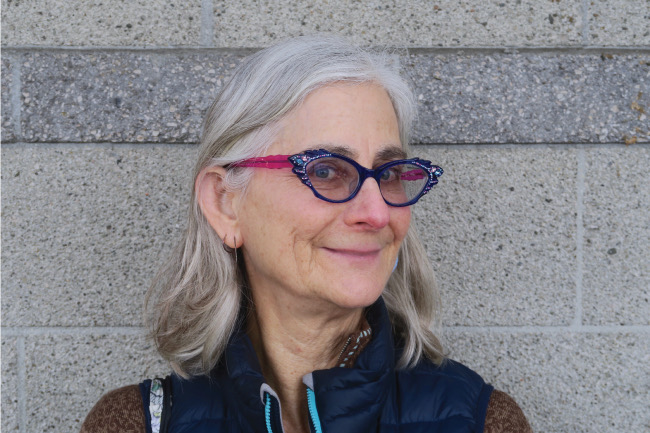 Shari Ser is a Certified Iyengar Yoga teacher, a physical therapist and certified yoga therapist. She has over 35 years of both physical therapy clinical practice and experience teaching yoga for a wide range of medical and health conditions. Shari works full time as a physical therapist and yoga teacher. She is also a faculty member of the Yoga Room's 500 hour Advanced Studies Program. Shari is a certified trainer in Dr Loren Fishman's Yoga for Osteoporosis method and teaches an ongoing Yoga for Osteoporosis class at the Yoga Room. She co-teaches a Yoga for frail seniors ongoing at the Yoga Room. She is a graduate of the Professional Yoga Therapy training for health care professionals, and the Adeline Yoga Sadhana Studies Program. Her additional certifications include RYT 500, E-RYT, C-IAYT and PYT. Shari is an avid believer of the power of yoga throughout the years and of its immense value in maintaining mobility, independence and equanimity as we all age.