Yoga for Healthy Aging: 3 Month Immersion
July 23, 2021 @ 4:00 pm

-

6:30 pm
Yoga for Healthy Aging:
Self Care. Stress Management. Community.
A Three Month Immersion
with Sarah Harvey, Sandy Carmellini, Deborah Saliby and Shari Ser
An important part of aging well is the set of daily activities that nourishes you physically and emotionally. Harnessing yoga's ancient wisdom is especially important right now because we live in a speedy, technology-driven society. Yoga teaches you how to be comfortable in your own body, to listen to your inner knowing and to cultivate insight.
Yoga is incredible in how it offers new ways to experience physical joy and emotional connection as we age.  Iyengar Yoga is particularly potent because it supports each person's individual needs.  It helps you recognize your physical strengths so that your doubts and concerns can be replaced by knowledge and confidence.  It erases feelings of "I can't do this" with the knowledge and confidence to know what you can do – and how exactly to do it.
To get the benefits of the yoga, it must be practiced!  Dedication to sustaining and improving your health must be a conscious, daily decision.
Our expert faculty – Sandy Carmellini, Sarah Harvey, Deborah Saliby, and Shari Ser – offer this program as an opportunity to bring more yoga into your life through a unique three-month immersion called Yoga for Healthy Aging.
Registration for the July weekend is now open!


THIS PROGRAM IS COMPLETELY UNIQUE!
This is the only program in the country offering a deep dive into the exact yoga topics that have the most positive impacts for folks over 50.
The immersion offers:
A deep dive into the transformative techniques that can help you blossom.
Access to 4 expert teachers. Collectively, our teachers have well over 100 years of experience teaching and practicing yoga.
An immersive opportunity to come together with like minded people  Don't be surprised by the kinds of friendships that are cultivated you go through this transformative process together.
Recommended readings and opportunities to practice so you can keep the momentum going between each session
As this program progresses each month, you will:
Wake up more energized.
Have a daily yoga sequence to practice – that you know works for your body.
Improve your health.
Learn more about what your body needs and wants.
Practice new techniques to help you get calm and feel grounded.
Cultivate a stronger sense of self-confidence, stability and strength – in your body and your mind.
Self care is the most powerful way to meet life's challenges with grace and determination.  Clarity of self  and your life's purpose is one of the most potent benefits of this practice of yoga.


PROGRAM SCHEDULE
One weekend each month in 2021:
May: 21 – 23
June: 25 – 27
July: 23 – 25
Friday: 4:30 – 6:30 pm | Saturday: 10 – noon & 2:00 – 4:30 pm | Sunday: 12:30 – 2:30 pm
Each weekend will have a focus:
May: Self-Care and Setting Intentions
June: Stress Management:  Working with the Brain and Nervous System
July: Focus on Equanimity and Bone Health
Developing a home practice and building community is central to this program. 
Each weekend will include:
Home practice tips
Asana
Pranayama
Anatomy lectures and discussion
Yoga philosophy
Question and answer sessions with the entire faculty
Opportunities for creating and maintaining community of like-minded people.
Throughout the Immersion, we will cover:
Strength and flexibility
Balance and proprioception
Brain health and strengthening the nervous system
Bone health including osteoporosis and osteopenia
Eastern approaches to self-care
Approaches to developing equanimity in the face of unexpected change and uncertainty
Between each gather, participants will have options for further study:
Recommending readings
Home practice sequences
A study buddy and online community
Recordings from the Immersion


THIS PROGRAM IS DESIGNED FOR:
People who are ready to make a conscious decision to work on their health.
Students who are 50+ years old and have at least six months experience practicing Iyengar Yoga specifically – or permission from one of the faculty.
Folks who want to learn more about working with their own bodies, whether it be specific goals, minor health conditions or specific injuries.
Students who want to learn in community

THE STUDENT EXPERIENCE:
"I realized that no one was going to do it for me. I was going to need to learn about my own body, its needs, wants and limitations and befriend it in order to develop and nurture a practice that will help keep me safe and healthy as I age. " ~Shelly
"What was most impactful for me is that the program really gave overt permission for us aging folks to be judicious and protective of our bodies when doing our yoga practice. This was reinforced by the attitude of all four teachers who understand aging from within, and in terms of their expertise on the subject." ~Patsy



INVEST IN YOUR HEALTH
Registration is now open for the July weekend
$195 for each weekend.
This investment will have a profound impact in your sense of well-being.

We are here to support you!
Cancellation and Refund Policy:
If you pay for one weekend only and your cancellation request is received more than 72 hours before the event, your payment can be converted into Adeline Yoga account credit minus a $10 processing fee.
If you pay for the entire program and cannot attend one or more of the weekends, we will charge you the full price for the weekends you did attend and give you a credit for the difference, minus $10 processing fee.
No refunds are given for missed attendance. You will have access to the recordings.
To request a cancellation, please email: info@adelineyoga.com


ABOUT THE FACULTY:
Sandy Carmellini is a a Certified Iyengar Yoga Teacher and Certified Yoga Therapist (C-IYT and C-IAYT), a Craniosacral Therapist, E-RYT500 (Yoga Alliance), Reiki II and aromatherapy practitioner. She has been teaching yoga since 1998 and is the owner/director of Brentwood Yoga Center since 2008. Sandy is a committed volunteer, and served as an executive board member of the National Iyengar Yoga Association (IYNAUS). When she's not on the mat, Sandy loves spending time with her family, hiking with her husband, cooking and eating vegan food, playing with her cats and studying essential oils. She firmly believes that a healthy lifestyle, including yoga and connection to community brings balance to the body, mind, and spirit.
Sarah Harvey is a Certified Iyengar Yoga Teacher and Certified Yoga Therapist with the International Association of Yoga Therapists (C-IYT and C-IAYT). She is a graduate of the 500-hour Teacher Training Program at the Iyengar Yoga Institute of San Francisco, and has specialized training in teaching Yoga for Osteoporosis. A long time member of the Iyengar Yoga community, she has studied and practiced yoga since 1991. She has been teaching classes and private yoga lessons throughout the Bay Area since 2002. Sarah brings a light, humorous approach to her teaching, combined with direct, detailed instructions for each student. Although yoga is central to her life and key to her well-being, she is also an avid sports fan (Go A's! Go Dubs!). Sarah lives in a small cottage in East Oakland with her two cats, and enjoys gardening and gourmet cooking.
Deborah Saliby is a a Certified Iyengar Yoga Teacher and Certified Yoga Therapist (C-IYT and C-IAYT) and has been teaching yoga for over 37 years. A graduate of the Iyengar Yoga Institute of San Francisco, she studies regularly with Senior teachers and attends Iyengar conventions.  Her classes are balanced and integrated, leaving students with greater energy, emotional stability and a renewed sense of well-being.  Props are regularly used to support students' access to postures safely and mindfully. Her classes include inversions or variations of inversions, restorative postures, breath awareness and relaxation, all depending on the class level.  She specializes in yoga for back care and yoga for pregnancy. Deborah is also a hypnotherapist and hypnoBirthing instructor.  She recently retired from full time Special Education teaching. When not teaching, Deborah can be found on long walks with her dog and dinner gatherings with family and friends.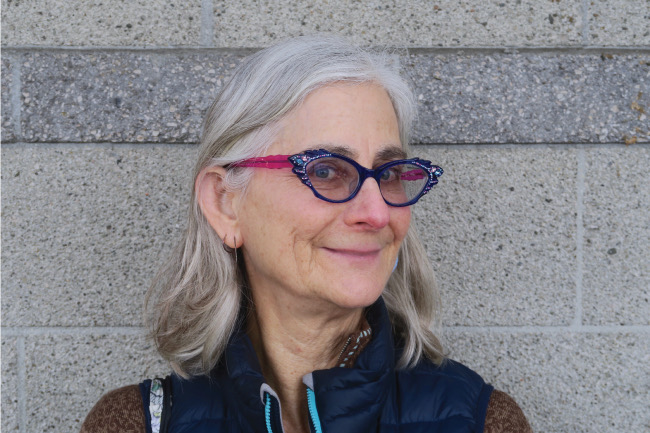 Shari Ser is a a Certified Iyengar Yoga Teacher and Certified Yoga Therapist (C-IYT and C-IAYT), and a physical therapist. She has over 35 years of both physical therapy clinical practice and experience teaching yoga for a wide range of medical and health conditions. Shari works full time as a physical therapist and yoga teacher. She is also a faculty member of the Yoga Room's 500 hour Advanced Studies Program. Shari is a certified trainer in Dr Loren Fishman's Yoga for Osteoporosis method and teaches an ongoing Yoga for Osteoporosis class at the Yoga Room.She co teaches a Yoga for frail seniors ongoing at the Yoga Room. She is a graduate of the Professional Yoga Therapy training for health care professionals, and the Adeline Yoga Sadhana Studies Program. Her additional certifications include RYT 500, E-RYT, C-IAYT and PYT. Shari is an avid believer of the power of yoga throughout the years and of its immense value in maintaining mobility, independence and equanimity as we all age.