Yoga & Cultural Heritage Retreat in Guatemala
January 1, 2022

-

January 8, 2022
ITS TIME FOR A CHANGE OF SCENERY
Ready for some self-care and time around other yogis?
Join us for a Yoga & Cultural Heritage Retreat in Guatemala
8 DAYS OF EXPLORATION
WITH HEATHER HAXO PHILLIPS
JANUARY 14 – 21, 2023
Villa Sumaya, Lake Atitlan – Guatemala
Retreat highlights:
Explore this incredible property:  8 days / 7 nights with awe-inspiring views on the shores of the sacred Lake
Enjoy the practice of Iyengar Yoga: Daily sessions with Heather  in our private space overlooking the lake and volcanos
Investigate the intersections: between Mayan and Vedic approaches to time, helping you to settle into the present moment
Nourish yourself: Three delicious organic vegetarian meals each day + juice bar
Deeply relax: Solar hot tub, lake-side massage and other on-site spa services
Experience traditions:  A sacred Mayan Fire ceremony lead by a local shaman
Explore your surroundings:  Ample time to soak in the incredible countryside and traditions of the Mayan people
Connect:  Enjoy being with like-minded people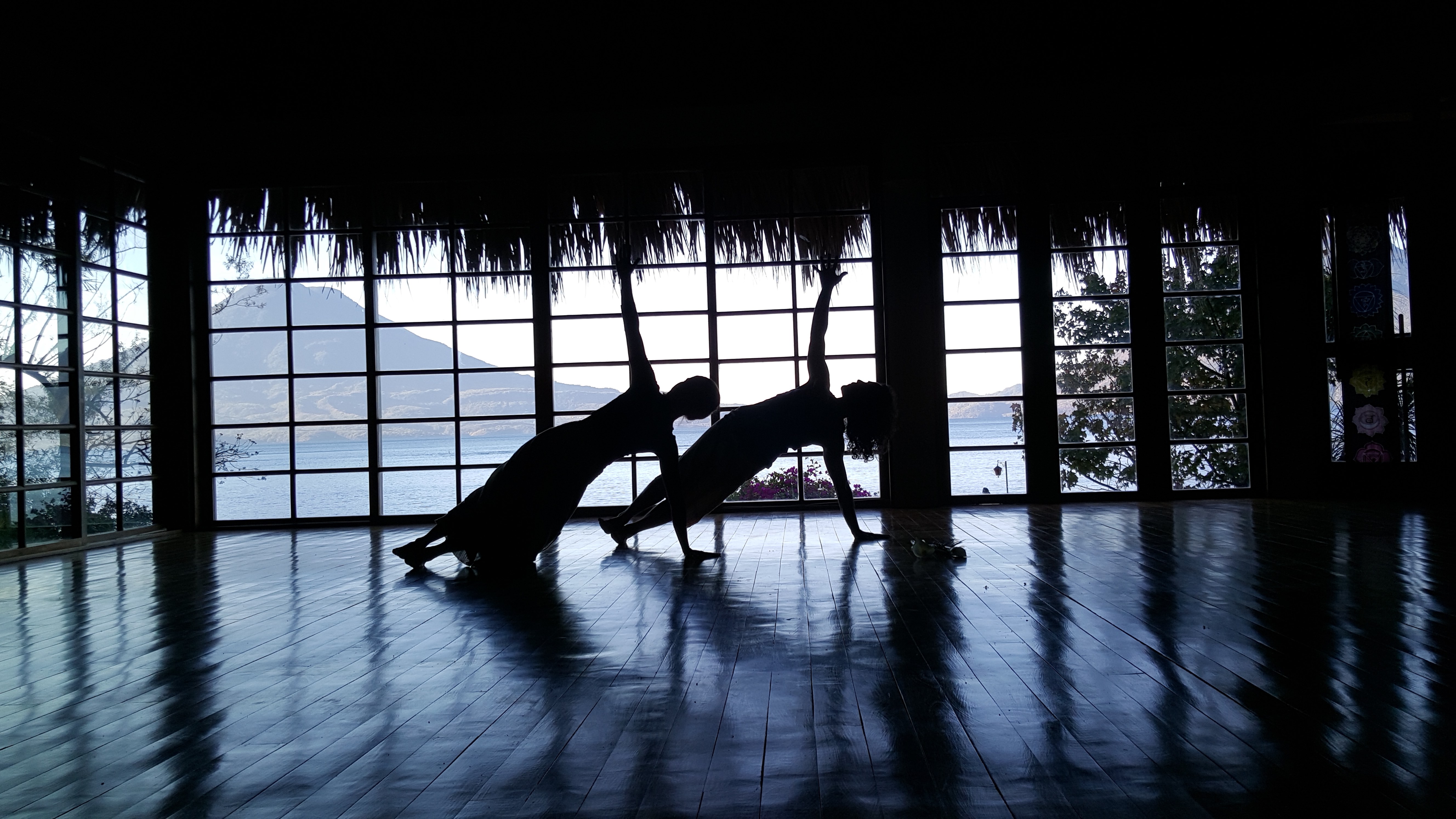 This is your opportunity: feel supported and nourish your spirit!
We have two rooms available
Please fill out the registration form so you can be put on the wait list.
THE STUDENT EXPERIENCE
"In a quiet retreat center,
teeming with birdlife, I got to drop into myself and my yoga practice.  Heather beautifully guided us with well-planned sequencing designed to help deepen and replenish.  It was a true privilege."
~Douglas J. Chermak
"I had imagined that
I would leave your retreat with a sense of peace, balance, increased confidence in my poses, and an uplifted chest.  What I hadn't imagined was how uplifted my soul and the corners of my mouth were at the end of those sublime days."
~Ingrid S.
Amazing Accommodations
Majestic lake views with balconies
The spectacular property will allow you to rest, relax, and recharge.
All bedrooms have warm, inviting décor featuring indigenous handicrafts, private bathrooms, outdoor seating & lake views.
Rates
$2435 Double Occupancy
-or-
$2785 for Single Occupancy
$2150 for participants not doing yoga
We have 1 spot left
Please fill out the registration form and we will book your room.
THE SCHEDULE
Saturday
3 pm | Arrival and Check-in
Asana Practice
Dinner and Welcome Ceremony
General Schedule
8:30 am Light Breakfast
10:00-12:30 pm Asana
1 pm Lunch
Free Time
5-6:15 pm Asana
6:30 pm Dinner
Some evenings will include philosophy discussion or special activities
The actual schedule varies per day.  We will usually have two yoga-related activities together each day, whether it be pranayama, asana or group discussion.
The morning classes will be asana classes geared toward all levels.
The afternoon classes will be geared toward your specific interests and include restorative asana. We can focus on typical conditions we all face such as back pain, and issues in the neck and shoulders. These two afternoon sessions will help retreat participants and serve as teacher education for those who teach.
We will have some afternoons free for activities on your own, which could include:
Tour & lunch at Amigos de Santa Cruz and their training center in the village of Santa Cruz.
Kayak/hike to San Marcos.
Chichi Market visit.  An incredible regional market.  Enjoy visiting the Mayan Catholic churches there.
Participate in a cacao ceremony, get a mayan horoscope reading or participate in other indigenous traditions at Villa Sumaya
Hike to the Volcano
Reading a book
Napping in your hammock
Sauna, reflexology or other spa treatments
We will have several evening programs including a Q&A and yoga philosophy discussion.
In our final day we will gather together over a traditional Mayan fire ceremony led by a local shaman. Bring an intention and prepare to learn something about yourself.
Saturday:
7:00 am | Final Class
8:30 am | Final Breakfast & Check out
9:30 am | Departure
Schedule any plane transport for 2:30 pm or later to allow you sufficient time to get to the airport.
Last spot left
Please fill out the registration form to book your room.
REGISTER NOW
WHO IS THIS RETREAT FOR?
This program is especially aimed at adventurous people with an interest in personal growth, self-inquiry and conscious connection with oneself and fellow travelers.  A retreat is a quiet place that you go to in order to withdraw from the regular routine of daily life and rest in a private place.  So you should feel comfortable keeping your phone away (for the most part).
Our yoga classes are ideally suited for people who have at least 1 year experience studying Iyengar Yoga consistently.
You should be physically able to walk on your own and climb stairs.
THE LOCATION
Cradled by rural highlands and lush forests, Lake Atitlan is a breathtaking beauty framed by three majestic volcanoes. The lake is known to attract travelers in search of soulful reconnection. Resting in a secluded lakeside cove, Villa Sumaya is an eco-chic sanctuary dedicated to holistic practices, and preserving Mayan tradition.  You will experience an eco-friendly wellness retreat perfect for self-care, refreshing perspectives and renewing energies.
WHAT ABOUT COVID-19?
We take Covid very seriously – there are many ways we are making your health our priority. This retreat will be small to reduce the amount of people you will be in contact with.
We will honor the Covid protocols in place at that time.  All guests maybe be required to have a vaccination card and obtain a negative COVID-19 test within 72 hours prior to check in at the airport.
Once you are at the retreat center, Villa Sumaya has comprehensive COVID-19 protocols. The safety of all guests and staff is our top priority.  Please see the COVID related protocols here.
THE CULTURE
Each of the 12 villages around the lake has its own distinctive style, revealed through the traditional dress of the women. Most men now wear western clothing, but if you walk around town, you will undoubtedly spot one or two dressed in the traje of his pueblo.
The Guatemalan countryside is far away from the tourist hordes.  That is why we picked it! After years of traveling across Central and South America, this location seemed ideal:  A professional retreat center able to handle a group of contemplative yogis, a breath-taking natural landscape, and a unique cultural environment both welcoming to tourists and supportive of the indigenous people who live there.
This country offers many of our favorite things: chocolate, coffee, inspiring food markets and magnificent textiles.  We cannot wait to share it with you!
GETTING THERE
Fly into the international airport in Guatemala City (GUA).
If you have time, we recommend you fly into Guatemala City and go directly to Antigua for a night or two. Antigua is place of rare beauty, major historical significance and vibrant culture. It is a must-visit destination in Guatemala, and an easy place to rejuvenate after your travels. A former colonial capital, Antigua is easy to navigate on foot and offers a magnificent introduction to Guatemala with cobblestone streets, bustling plazas and excellent food.  We can pre-arrange a van to meet you at the airport and take you to Antigua.  On the day of the retreat, a group van will take participants to the lake.
Or, you can go from Guatemala City directly to the lake, about 3-hours journey from the airport. We can pre-arrange a van to meet you.
The vans will take us to Panajachel, the commercial center closest to Villa Sumaya. From Panajachel, we  take a 10-minute boat ride directly to the docks of Villa Sumaya. Villa Sumaya staff will be waiting for us at the dock once we arrive.
One spot available
Please fill out the registration form to reserve your room.
REGISTER NOW
VILLA SUMAYA
Villa Sumaya's secluded lakefront cove is the perfect sanctuary for a peaceful getaway.
Each room has warm, inviting décor, private bathrooms, outdoor patios, incredible lake views, orthopedic beds and quality linens.
Each meal is a homemade buffet, abundant and freshly prepared in the Villa Sumaya kitchen. Meals are based around local ingredients, often from the Villa Sumaya gardens, balanced to meet the nutritional needs of our active participants. Villa Sumaya accommodates most special dietary restrictions like allergies, vegan and non-gluten diets. If you would like chicken or fish options, that can be arranged.  Snacks, tea, coffee and other beverages are available throughout the day and night.
Harmony Spa is onsite, offering rejuvenating bodywork session ranging from Swedish, Ayurvedic and Thai massage to energy work. We encourage you to indulge!
Villa Sumaya is a place for participants to unplug from daily life, allowing time for rest and reflection. Computers with internet are available for quick check-ins with friends and family. Phones are available for local or long-distance communications.  If you want to stay connected, satellite-based w
The complimentary, solar-heated, stone hot tub oasis is tucked above a garden lounge. For a detoxifying sweat, the wood-burning sauna can be reserved for a small charge.ifi is available on your personal device for an additional fee.
Villa Sumaya has a concierge service.  They are happy to organize all your transportation, spa services and cultural outings.
Villa Sumaya works closely with Amigos de Santa Cruz, a non-profit organization that supports the indigenous people of Santa Cruz, our local village. If you would like to bring donations, they would be happy to coordinate this act of kindness. Providing this kind of help often gives groups a true sense of connection with the local Mayan community and thereby a deeper retreat experience.
RETREAT HAS ONE SPOT LEFT
Please fill out the registration form to reserve your room.
REGISTER NOW
YOUR INSTRUCTOR
Heather Haxo Phillips is a  Senior Iyengar yoga teacher and the Director of Adeline Yoga. Heather offers expertise in yoga therapy, and is a Certified Yoga Therapist (c-IAYT), Relax and Renew restorative yoga teacher and Yoga Alliance E-500 level instructor. Her teaching is rooted in the ancient yogic traditions, including yoga philosophy, Sanskrit and chant. Every class offers an opportunity to delve into all these aspects of Yog.
Certified at the Senior Intermediate I level, Heather serves as a mentor to aspiring teachers and CIYT, leading teacher education programs and volunteering as an assessor.
Heather studies regularly with senior Iyengar Yoga teachers and the Iyengar family in Pune.  Her yoga philosophy and Sanskrit teachers include Dr. Gitte Beschgaard and Dr. Sucheta Paranjpe.
Heather is dedicated to her volunteer work as past President of the Board of Directors for the Iyengar Yoga Association of Northern California and an active volunteer for the Iyengar Yoga National Association of the United States.
Heather has traveled widely throughout the world, especially places off the beaten path.  She is known for her well-organized events and retreats. This will be her third trip to Villa Sumaya.
Still have more questions?
Learn more by emailing heather@adelineyoga.com