Yoga & Cultural Heritage Retreat in Guatemala
April 14, 2018 @ 3:00 pm

-

April 21, 2018 @ 12:00 pm
Yoga & Cultural Heritage Retreat in Guatemala
with Carolyn Belko and Heather Haxo Phillips
8 Days of Inner & Outer Exploration
Saturday—Saturday
April 14 – 21, 2018
Villa Sumaya, Lake Atitlan – Guatemala

Exploration is an integral part of all spiritual practices. A true retreat provides the support for the practitioner to go more deeply into their practice.  We are supported by the physical space, by our teacher, by our community of fellow students, by the meals that are lovingly prepared for us and the practices that we do. On a retreat we focus on activities that nourish our spiritual selves. We make space and time for practice, for inward contemplation and for deep rest. The insights, perspective and experience we have on retreat in turn create a wider, deeper and more luminous container for us to live in once we get back home.
Our retreat will be in the placid lakeside of Lake Atitlán in Guatemala. Each day will include individual asana and pranayama classes to deepen your connection to your self.  Three delicious meals will allow you to nourish yourself in the community of others.
You will also have time to immerse yourself in the awe-inspiring nature and culture of Lake Atitlán, Guatemala. The countryside around Lake Atitlán is home to 12 different villages which you may want to explore, plus unique regional markets like you have never experienced.
Organic, vegetarian meals and beautiful accommodations are an important part of this retreat. Each room is beautifully appointed with handicrafts from the local village.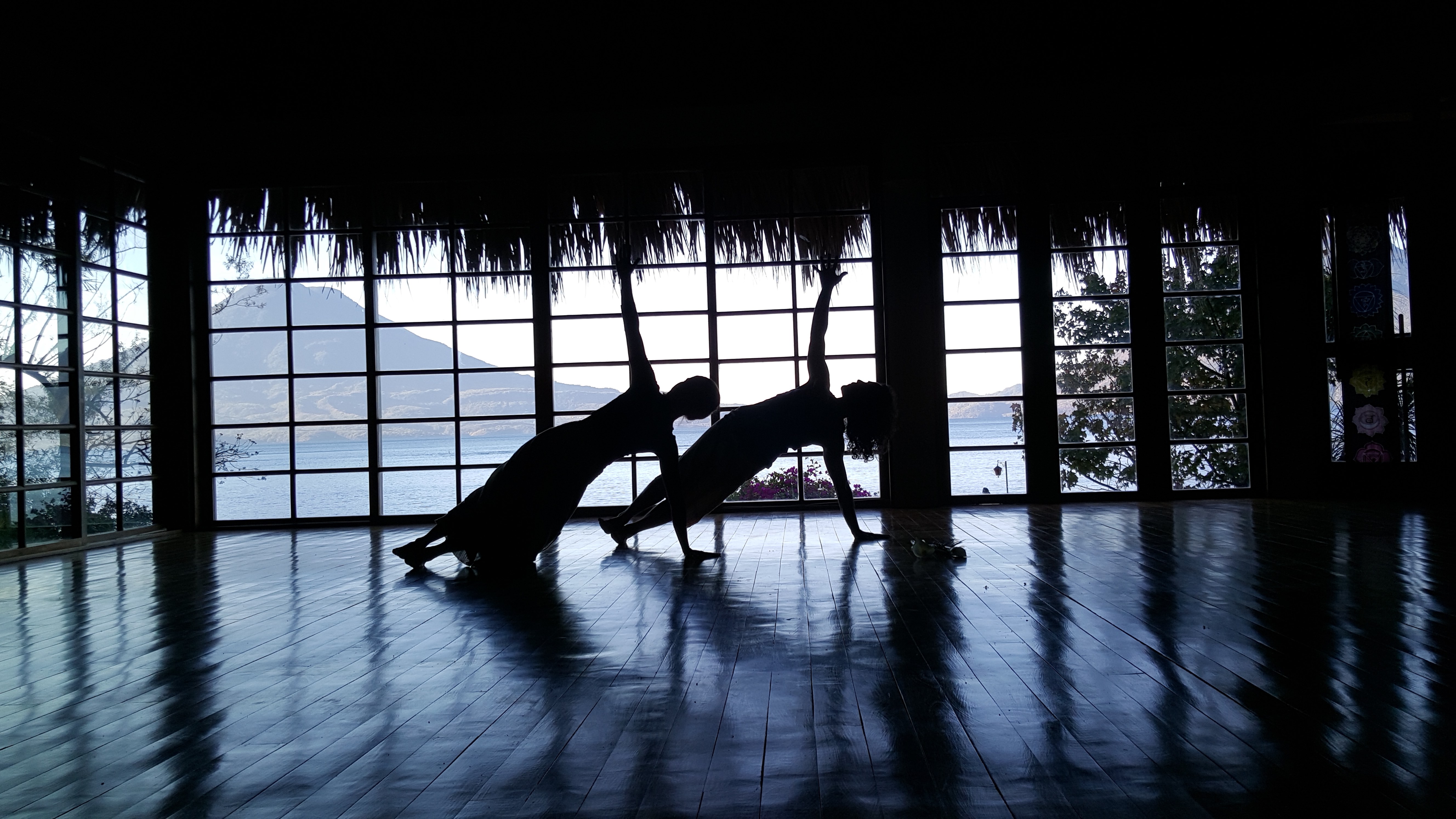 The retreat begins at 3 pm on Saturday afternoon and finishes at 11 am one week later.
Students should have at least 6 months experience in the Iyengar method.
Have questions?  Contact us info@adelineyoga.com
RETREAT IS NOW FULL.
WHEN YOU REGISTER, YOU ARE REGISTERING FOR THE WAIT LIST.

[clear-line]
[justified_image_grid thumbs_spacing=8 gallery columns="6″ link="none" ids=5853,5852,5851,5842,5841,5840,5839,5837,5836,5835,5885,5886 orderby=rand]

THE STUDENT EXPERIENCE
[one-half-first]
"In a quiet retreat center, teeming with birdlife, I got to drop into myself and my yoga practice.  Heather beautifully guided us with well-planned sequencing designed to help deepen and replenish.  It was a true privilege."
~Douglas J. Chermak
[/one-half-first][one-half]
"I had imagined that I would leave your retreat with a sense of peace, balance, increased confidence in my poses, and an uplifted chest.  What I hadn't imagined was how uplifted my soul and the corners of my mouth were at the end of those sublime days." ~Ingrid S.
[/one-half]

TUITION
$2100 single occupancy
$1850 double occupancy
Includes all yoga classes, food and accommodations
Want to bring your spouse or a friend?
We have a special rate if you don't plan to attend classes – $1250 (double occupancy)
Pay in full now by check and receive an additional gift of a Pune eyewrap!
OR
$500 non-refundable deposit to save your space
The balance will be due by February 1, 2018
You can register and drop off your check at the studio.  Or send to Adeline Yoga, 484 Lake Park Ave #644, Oakland CA 94610. (This is our mailing address, not studio address.)
Once we receive your check, we will save your spot and send you a welcome kit with all the details.
As we get closer to take-off, we will request your flight details and transportation needs.
 Have questions?  Contact us info@adelineyoga.com
RETREAT IS NOW FULL.
WHEN YOU REGISTER, YOU ARE REGISTERING FOR THE WAIT LIST.

WATCH THIS VIDEO ABOUT THE RETREAT
Read more here from a yoga student who recently went on retreat at Villa Sumaya.

SAMPLE RETREAT SCHEDULE
Saturday
3 pm | Arrival and Check-in
Asana Practice
Dinner and Welcome Ceremony
General Schedule
7:15-8 am Pranayama
8:30 am Light Breakfast
10:00-12:30 pm Asana
1 pm Lunch
Free Time
5-6:30 pm Restorative
6:30 pm Dinner
Some evenings will include philosophy discussion
Free-Time Activities could include:
Tour & lunch at Amigos de Santa Cruz and their training center in the village of Santa Cruz.
Kayak/hike to San Marcos
Chichi Market visit (one hour drive).  An incredible regional market.  Enjoy visiting the Mayan Catholic churches there.
Village tour of San Juan including the women-run textile cooperatives filled with unusual and enchanting items.  A favorite stop there is the colorful Alma de Colores.  This organization is a labor and social inclusion program for people with disabilities.  They have a wonderful little cafe, handicrafts and cute gardens.
Hike to the Volcano
Reading a book
Napping in your hammock
Spa treatment
Hot tub!
Saturday:
8:00 am | Final Pranayama and Asana Class
9:30 am |Final Breakfast
11:00 am | Check Out & Departure


ABOUT THE LOCATION
Lake Atitlán is believed by the Maya to be the center of the universe where God's seeds of mankind evolved.
This large lake is the deepest lake in Central America with a maximum depth of 1,120 feet. The lake's landscape features three volcanoes. Volcán Atitlán is the only one of the three believed to still be active, though its last eruption occurred in 1853. Most of the year the volcanoes are clearly visible in their supreme grandeur.
Villa Sumaya is located on the shores of Lake Atitlán near the village of Santa Cruz La Laguna. The 5,000 foot altitude and proximity to the equator offers a high plane semi-tropical paradise often referred to as "the land of eternal spring."
Each of the 12 villages around the lake has its own distinctive style, revealed through the traditional dress of the women. Most men now wear western clothing, but if you walk around town, you will undoubtedly spot one or two dressed in the traje of his pueblo.  Each village has its own unique character.  You can easily visit a different one each day.  The two Mayan dialects spoken on Lake Atitlán are Kaqchikel and Tzutujil.
Villa Sumaya is located 10 minutes by boat from Panajachel, the crossroads closest to Villa Sumaya. Public boat transportation is available every half hour from 7:00 am to 7:30 pm
pm. The price is about Q25 per person ($3.00). Ask the boat driver to drop you off at the Villa Sumaya dock.
Visit the Villa Sumaya Website
Check out a video tour of Villa Sumaya:

WHAT TO EXPECT
The Guatemalan countryside is far away from the tourist hordes.  That is why we picked it!  After years of traveling across Central and South America, this location seemed ideal:  A professional retreat center able to handle a group of contemplative yogis, a breath-taking natural landscape, and a unique cultural environment both welcoming to tourists and supportive of the indigenous people who live there.
This country offers many of our favorite things: chocolate, coffee, inspiring food markets and magnificent textiles.  We cannot wait to share it with you!
GETTING THERE
Fly into the international airport in Guatemala City (GUA).  We can pre-arrange a van to meet you and take you either 45-minutes to the colonial city of Antigua or directly to Panajachel, the commercial center near Villa Sumaya – located  3-hours drive from the airport.
Villa Sumaya is located 10-minute by boat from Panajachel.  We can arrange a private boat for you or public boat transportation from Panajachel's Tzanjuyu ("san-who-you") dock is available every half hour from 7:00 to 5:30 and later at 6:30 and 7:30pm. The price is about Q20 per person ($3.00). Ask the boat driver to drop you off at the Villa Sumaya dock.
Panajachel is the commercial center located a 3-hours drive from the international airport in Guatemala City. Private shuttles from the airport may be organized through us via email. Villa Sumaya can arrange private boats for your convenience 24 hours a day. We can also organize a private shuttle from the airport or Antigua and/or a private boat from Panajachel. Private boat and shuttle fees can be added to your personal bill.
If you have time and the desire to see more of Guatemala than the lake, we recommend you fly into Guatemala City and go directly to Antigua for a night or two.  Antigua is place of rare beauty, major historical significance and vibrant culture.  It is a must-visit destination in Guatemala, and an easy place to rejuvenate after your travels.  A former colonial capital, the town is easy to navigate on foot and offers a magnificent introduction to Guatemala with cobblestone streets, bustling plazas and excellent food.
We plan to arrive in Antigua on Thursday, and make our way to Villa Sumaya on Saturday afternoon.
VILLA SUMAYA

We will provide you a full welcome packet with all the details once you register.
Here is a basic overview:
All meals are vegetarian and are prepared by the Villa Sumaya staff. Meals will be served in the communal dining area. Villa Sumaya does accommodate eating restrictions. If you would like to order chicken or fish options, it will be an additional $7 per meal.
Snacks are also available. Green goddess exotic juice, wine, beer, cocktail and raw organic snack bar for you!
What is included in the price?
Accommodations, three daily vegetarian meals, yoga, unlimited tea/coffee/water service and all taxes.
What is not included in the price?
Not included: any type of transportation, optional activities, spa services, meat added to your meal plan, specialty drinks, internet, phone calls, copies and administrative work.
Staff tips are not included. We recommend giving $6-8 per day per person.
What is the cancellation policy?
The deposit is not-refundable. Cancellation given 60 days or more before the event will have a full refund, minus the deposit. No refunds will be given for cancellations within 60 days of the retreat.
Services at Villa Sumaya
Wellness
Harmony Spa offers rejuvenating bodywork session ranging from Swedish, Ayurvedic and Thai massage to energy work. Services vary depending upon the time of year.
Communications
Villa Sumaya is a place for guests to unplug from their daily life, allowing more time for rest and reflection. Two complimentary computers with internet are available for quick check-ins with friends and family. Phones are available for local or long-distance communications.  If you want to stay connected, wifi is available throughout most of the center on your personal device, for $3/day or $20/week for wifi.
Solar Hot Tub and Sauna
The complimentary, solar-heated, stone hot tub oasis is tucked above a garden lounge. For a detoxifying sweat, the wood-burning sauna can be reserved for a small charge.
Concierge Services
They are happy to organize all your transportation, spa services and cultural outings.
Bringing Donations
Villa Sumaya works closely with Amigos de Santa Cruz, a non-profit organization that supports the indigenous people of Santa Cruz, our local village. If you or any of your guests would like to bring donations, we would be happy to coordinate this act of kindness. To learn more about Amigos, visit amigosdesantacruz.org. Providing this kind of help often gives groups a true sense of connection with the local Mayan community and thereby a deeper retreat experience.
Have questions?  Contact us info@adelineyoga.com

ABOUT YOUR INSTRUCTORS
Carolyn Belko is a devoted pupil of BKS Iyengar. With his blessings she opened the Iyengar Yoga Center of North County in Encinitas, near San Diego California. Carolyn shares yoga succinctly and with enthusiasm. Her application of the art of sequencing coupled with devotion guides students on a steady path. The clarity of the practical philosophy of Iyengar Yoga shines through her classes. She has been training teachers throughout the west and has been staff of the IYA-Southern California training program since 1997.
A leader in the community, Carolyn is one of few to conduct Iyengar Yoga Therapeutics classes. She serves as a volunteer assessor for certification of Iyengar Yoga Teachers across the nation.
Carolyn has been to RIMYI to study at the source regularly, and has received Senior Int. III Certification from Guruji. Immersion in study and art of yoga began for her at the Centre de Yoga Iyengar de Paris, France, where she trained with Faeq Biria, and started teaching.
Heather Haxo Phillips is a certified Iyengar yoga instructor at the Junior Intermediate III level, among the highest certified Iyengar teachers in the East Bay. She is Director of Adeline Yoga in Berkeley, California and has been teaching for nearly 15 years.
Heather is past President of the Board of Directors for the Iyengar Yoga Association of Northern California. She is also certified as a yoga therapist through the International Association of Yoga Therapists (c-AIYT), a restorative yoga teacher, and registered with Yoga Alliance as an E-500 level instructor.  She has specialized training to help students with scoliosis, injuries, women's health and pre-natal yoga. Heather deepens her own practice by studying regularly with senior teachers and the Iyengar family in Pune. Watch a video about Heather's classes or read her Yelp! reviews.
Heather has traveled widely throughout the world, especially places off the beaten path.  She is known for her well-organized events and retreats.