Healthy Aging Weekend: Yoga for Digestive Health
June 24, 2022 @ 4:30 pm

-

6:30 pm
Yoga for Healthy Aging: Digestive Health
An online weekend immersion for all levels
with Sarah Harvey, Deborah Saliby and Shari Ser 
Friday thru Sunday: June 24-26, 2022
Friday 4:30 – 6:30 pm PST / Saturday 10 – 4:30 pm PST / Sunday 11:30 am – 1:30 pm PST
ON ZOOM
The pandemic has affected our digestive health more than we may think.  Over the last two years, we've all been living with fear, loss, grief and isolation, not to mention economic and political turmoil. How has this level of chronic stress affected your health, especially the health of your digestive system?
Do you find that you are indulging yourself with "guilty food pleasures" after this prolonged period of deprivation? Those of us with the means can finally treat ourselves to a "fancy" meal in a nice restaurant – but at a cost to our body. Or, while traveling, have you found yourself with sudden digestive distress? Although these are all totally natural, human responses to the situations we are in,  food choices do have consequences for our digestive health, sometimes including symptoms like gas, bloating, stomach cramps, heartburn, indigestion, diarrhea and constipation.
Some of us deal with digestive ailments over which we have little or no control. Medical conditions like peptic ulcers, Crohn's disease and IBS (Irritable Bowel Syndrome) share similar symptoms and can have serious implications for our health and well-being. Regardless of the source and level of discomfort we feel, the physical and emotional stress that we've been living with can trigger and/or aggravate any of these digestive disorders.
Many people do not realize that Iyengar Yoga offers approaches to both the occasional digestive health problems, as well as the serious ailments.  There are poses to soothe the digestive system and help you become healthy again, plus practices you can use to promote overall digestive health.
Over this weekend you will learn how yoga can help improve your digestive health, and help you manage the symptoms that we all experience when digestive health diminishes.
You will have handouts to use after the weekend – and access to the recordings for 30 days.

BENEFITS OF THIS PROGRAM
During the weekend, you will:
Receive four home practice sequences you can use for when you're in digestive distress.
Learn how and why specific yoga poses can help both occasional indigestion symptoms and chronic ailments.
Develop deeper understanding of how your body works – specifically how the aging process affects digestive health.
Practice asanas that are appropriate for your specific needs.
PLUS:  You will have handouts for continued studies – and recordings you can rewatch for up to 30 days.
THE SCHEDULE:
Friday 4:30 – 6:30 pm PST: Kickoff the weekend with introductions and overview.  We will focus our first session on the Digestive System, specifically looking at its anatomy, physiology, common symptoms, ailments and medical conditions.  We will discuss exactly how Yoga practices can help manage these symptoms.  Then we will close the session with a nourishing restorative yoga practice.
Saturday 10 – noon and 2:30 – 4:30 pm PST: The morning starts with an active asana practice designed to support elimination, followed by a lunch break. In the afternoon, we will continue with a slower paced asana class focused on helping with symptoms like heartburn, reflux and diarrhea.
Sunday 11:30 – 1:30 pm PST:  We will close the weekend with an asana practice to help relieve stress & prepare for pranayama.  And, we will review the weekend's learnings.
Certainly, this unique weekend will give you the opportunity to practice in a more focused way, develop a deeper relationship with your teachers and build your connections to community.
Over three days, you will get to experience all the categories of poses and how their benefits relate to digestive health.

WHO IS IT FOR?
This course is geared toward those who have at least 6 months of consistent study with an Iyengar Yoga teacher.
It is also appropriate for teachers and teachers-in-training.
If you have minor health issues and injuries that is fine.  You must be comfortable getting up and down from the floor with minimal assistance.
The workshop is not appropriate for people who've had recent surgery.
If you have any questions about whether this program is right for you, please email info@adelineyoga.com.
TUITION
$225 for the entire weekend – including handouts and a recording to use for 30 days.
Cannot make it for all parts of the weekend?  No problem!  You will have the recordings to work with.
Need a pay-what-you-can option? We have a few spots available; please reach out to info@adelineyoga.com to inquire.
Notes:
Save the date as we have October 28 – 30: Yoga for Balance.
An hour before the course begins you will receive your unique zoom log-in
First time on Zoom with us? Check out our tip sheet! Our tips will help you get ready for your first class with us.

ABOUT THE FACULTY:
Sarah Harvey (she/her) is a Certified Iyengar Yoga Teacher and Certified Yoga Therapist with the International Association of Yoga Therapists (c-IAYT). She is a graduate of the 500-hour Teacher Training Program at the Iyengar Yoga Institute of San Francisco, and has specialized training in teaching Yoga for Osteoporosis. A long time member of the Iyengar Yoga community, she has studied and practiced yoga since 1991. She has been teaching classes and private yoga lessons throughout the Bay Area since 2002. Sarah brings a light, humorous approach to her teaching, combined with direct, detailed instructions for each student. Although yoga is central to her life and key to her well-being, she is also an avid sports fan (Go A's! Go Dubs!). Sarah lives in a small cottage in East Oakland with her two cats, and enjoys gardening and gourmet cooking.
Deborah Saliby (she/her) Deborah is a Certified Iyengar Yoga teacher, a Certified Yoga therapist and has been teaching Iyengar yoga for 40 years. She began her yoga practice in 1977 during college to help alleviate stress and anxiety. A graduate of the Iyengar Yoga Institute of San Francisco (1982), she studies regularly with Senior teachers and attends Iyengar conventions. Deborah's classes are balanced and integrated, leaving students with greater energy, emotional stability and a renewed sense of well-being. Props are regularly used to support students' access to postures safely and mindfully. Her classes include inversions or variations of inversions, restorative postures, breath awareness and relaxation, all depending on the class level. She specializes in yoga for back care and yoga for pregnancy. Deborah is also a hypnotherapist and hypnoBirthing instructor. She recently retired from full time Special Education teaching. When not teaching yoga Deborah can be found on long walks with her dog and dinner gatherings with family and friends.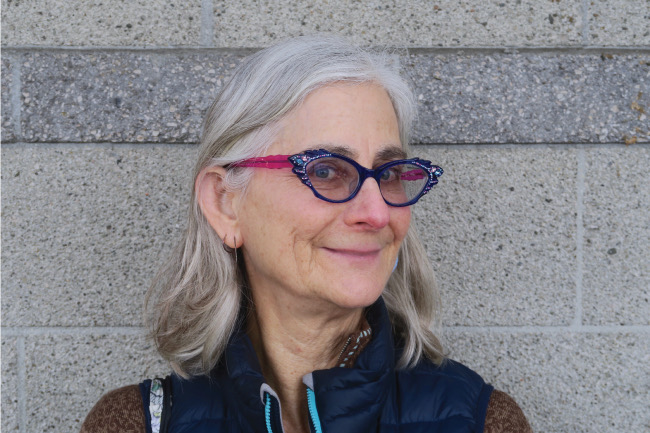 Shari Ser (she/her) is a Certified Iyengar Yoga teacher, a physical therapist and certified yoga therapist (C-IAYT). She has been practicing yoga for over 35 years along with working as a physical therapist throughout that time. She loves teaching yoga with students who may feel uncomfortable in faster paced yoga classes and need more personalized attention. Shari is a certified trainer in Dr Loren Fishman's Yoga for Osteoporosis method and teaches an ongoing Yoga for Healthy bones class at Adeline Yoga currently on zoom. Shari loves teaching anatomy classes for yoga students and teachers and believes we can deepen our practice and teaching of yoga through a good understanding of basic anatomy. She is a graduate of the Adeline Yoga Sadhana Studies Program. Her additional certifications include RYT 500, E-RYT, Shari is an avid believer of the practice and power of yoga throughout the years. She believes in its immense value in maintaining mobility, independence and equanimity as we all age.