Special Series: Developing Your Inversions
April 12, 2021 @ 5:45 pm

-

7:15 pm
Developing Your Inversions with Ruchi Murlidhar
Mondays 5:45 – 7:15 pm PST
April 12 – May 3
then
The Physiology of Inversions with Shari Ser
Monday May 10 – 5:45 – 7:15 pm PST
This is a unique course offered in two parts that includes asana and physiology.
You may take one or both parts
This course will be held live on zoom.
In the 4-session series with Ruchi, we will explore how using your regular asana practice can build a strong foundation for your inversion practice.
Each class will begin with foundational asanas from different categories of poses such as standing, forward bends, back extensions and twists with half the class time spent on developing Salamba Sirsasana (headstand) and Salamba Sarvangasana (shoulder stand).
In the asana practice we will bring specific attention to develop actions in inversions. We will notice how the progression of practicing inversions regularly brings stability, clarity and confidence to stay longer in these inverted poses.
This series will give you an opportunity to practice in a safe and welcoming space, strengthen your ability to tap into the yoga resources you already have, and help us all gain a new perspective by going upside down.
You will need basic props for this workshop including a yoga mat, blocks, 4-5 blankets and a strap.
This series is for people who have been practicing Iyengar Yoga regularly for at least 6 months.  It is geared to students with Iyengar Yoga experience at Level 1 or 2 who already have some basic exposure to the inversions and want to work more deeply. Every session builds on the previous class, so it is best if you can take all four.  Drop ins will be allowed if that is needed.
This is an excellent opportunity to learn how to take care of yourself at home. Ruchi will get to see you in your home setting and advise you on what to do.  You will have time to ask questions.  Plus, you will have a class recording to support you afterwards.
After the four sessions with Ruchi, you can learn more about the physiology of inversions in one session with Shari Ser.
Physiology is fun and fascinating, especially when you have learned the movements in your body and on your mat. You will learn more what is actually happening inside the body when you turn upside down, "inverting" your body from its normal upright position. There are numerous physiological effects that occur, including changes to blood pressure, circulation of the blood and lymph flow and changes in our sympathetic and parasympathetic nervous systems. Come practice with us and then understand why we might want to add inversions into our asana practice!
This session will be primarily lecture and a group discussion. To participate, you do not need to take part 1 though it is strongly advised.  This is a great program for students, teachers-in-training and teachers.
Each session will be held via Zoom.
Recordings will be made available to registrants, you must pre-register if you want the recording.
Tuition:  Use your membership or class pass.  Or drop-in for $22
Registration: You must pre-register to each class you plan on attending
One hour prior to class you will receive a unique zoom log-in and specific instructions.
First time on Zoom with us? Check out our tip sheet! Our tips will help you get ready for your first class with us.
You can find out more about our Live Online Programming here

Ruchi Murlidhar is a Level 1 certified Iyengar Yoga teacher (CIYT) and a graduate of the Advanced Studies/Teacher Training program of the Iyengar Yoga Institute of San Francisco. She began learning yoga in elementary school in India and tried various forms of yoga before focusing on Iyengar Yoga. She studies regularly with her mentor Elise Miller along with other senior teachers Lois Steinberg, Jito Yumibe and Victoria Austin who is also her pranayama teacher. She has also been fortunate to study in India at RIMYI with Geeta Iyengar.
Ruchi completed the Yoga Vidya program with Heather Haxo Phillips and has a regular chanting practice. She is often found experimenting in the kitchen and enjoys California sunshine while hiking/biking with her two boys. She loves to volunteer at her kids school and in her community. Her vibrant personality and sense of humor make her classes playful and accessible for students of all ages.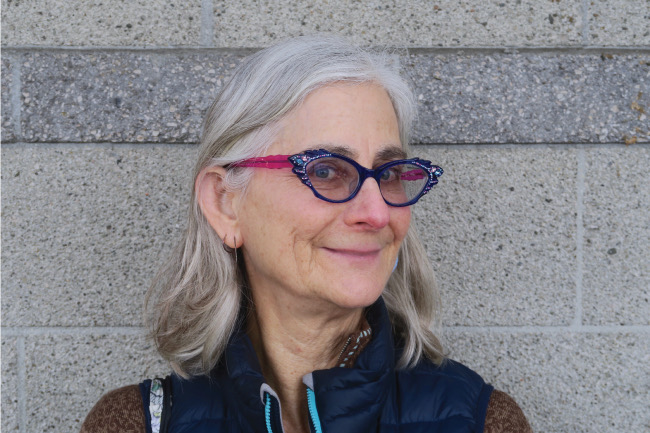 Shari Ser is a Certified Iyengar Yoga teacher, a physical therapist and certified yoga therapist. She has over 35 years of both physical therapy clinical practice and experience teaching yoga for a wide range of medical and health conditions. Shari works full time as a physical therapist and yoga teacher. She is also a faculty member of Adeline Yoga's Sadhana Studies Program. Shari is a certified trainer in Dr Loren Fishman's Yoga for Osteoporosis method and teaches an ongoing Yoga for Healthy Bones at Adeline Yoga. She is a graduate of the Professional Yoga Therapy training for health care professionals, and the Adeline Yoga Sadhana Studies Program. Her additional certifications include RYT 500, E-RYT, C-IAYT and PYT. Shari is an avid believer of the power of yoga throughout the years and of its immense value in maintaining mobility, independence and equanimity as we all age.