The first step is always
the hardest part
We welcome you to get strong, centered and more present through a personalized and sensible yoga practice. Overcome stiffness and prioritize your wellbeing with our yoga classes.
You will learn to
Move more freely, because your body is stronger and more flexible

Prioritize your health and wellbeing so life feels less stressful

Improve your posture and mobility – and get out of pain

Avoid injury so you can focus on the life you love
Adeline Yoga helps you move freely & feel better
We empower our diverse student community to meet life with confidence and equanimity. We address your needs so that you get yoga tools to manage your pain and soothe stress.

HOW TO GET STARTED
Step 1:
Reach Out
We will meet you where you're at – you just have to take the first step. Make a date with us here for your free 1:1 so that we can support you as you move forward to a healthier, happier you.
Step 2:
Come and Meet Us
This 1:1 time to connect will help put you at ease.    We've realized over the years that all new students benefit from personalized experiences in our Yoga Center – especially beginners and even our most experienced practitioners. 
Step 3:
Give it a Try!
We are proud of what our students achieve and believe we are the best yoga studio in town.  You have to experience it for yourself! To see if we are the right fit for you, take advantage of our 3 for $49 New Student Welcome Promotion.
As a yoga center whose focus is on inclusivity and community, we've chosen to serve our clients with these 1:1 welcome sessions.  They honor the tradition of yoga and are our acts of service. During this initial time together, we want to learn about your wellness goals and explore the best options for you to begin your journey. We know that making those first connections may be out of your comfort zone.  We are here to help! We want you to feel comfortable and enjoy the journey. 
I'M READY TO TAKE THE FIRST STEP!
Nervous about taking the first step?
WATCH THIS VIDEO TO LEARN WHAT TO EXPECT WHEN YOU WALK THROUGH THE DOORS.
Still nervous?
Hear from others just like you who finally found a meaningful yoga practice that actually works.
Trust & Support
"I'm fortunate to have established a caring relationship with my teacher, with Heather and the class in general.  I  feel comfortable and safe. I fully trust that whatever issues I may experience, be it psychological or physical, there is allowing and support. Trust is key to my dedication."
– Sharon Ingersoll
"Love the atmosphere and spiritual nourishment.  I need the teachers' drive to push my stiff body so that I can keep good posture."
– Chris Horton
Knowledge & Accountability
"The teachers' knowledge is so in-depth that it keeps me curiously coming back each week. I appreciate the discipline and accountability teachers hold for their students. The classes are well structured, rigorous, and calming every single time! Regardless, I know I will always feel better after going to class."
– Faye Fruchtman who has literally taken 3,000+ classes with us!
"From the moment you close your eyes and follow your teachers voice to chant Om, you are ready to take off on a journey that starts outside but moves you inside."
– Madhu Uberoi
What we offer
Personalized classes where people know your name and want to connect with you before and after class.

Experienced instructors with extensive training to help you progress, including helping to rehabilitate injuries and address health limitations if you need it.

Vedic wisdom in a modern context.  Our programming includes asana, pranayama, chanting and yoga philosophy.

Affordable classes in a friendly atmosphere.

Programs that promote personal growth, social justice and community interaction.

A community of like-minded people who are dedicated to bettering themselves and supporting others.

Accessibility in all ways, including how you get to the studio!  For our in-person classes we have plenty of car and bicycle parking right outside our door.  We are only four blocks from BART and have a bus stop right next door.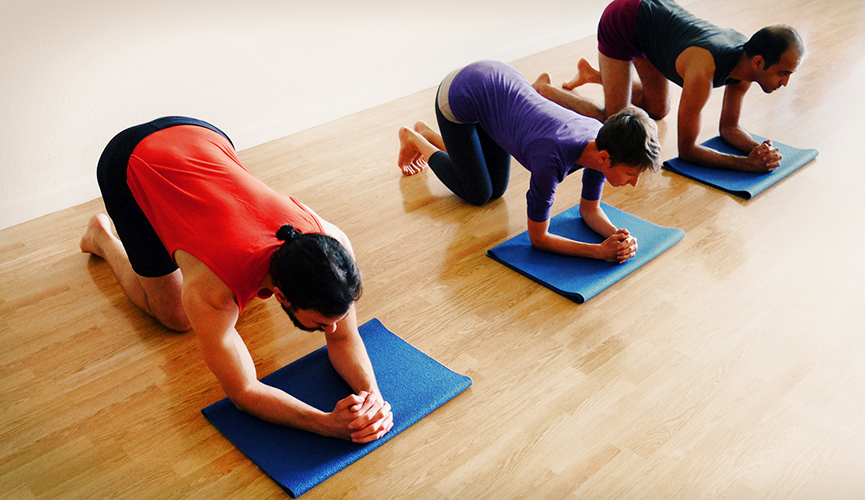 How do we do it?
With our unique Iyengar Yoga Practice:
We have classes that are focused on your physical health. You'll develop strength, flexibility and stamina – and even improve your immunity. 

We have classes that are focused on therapeutic applications that offer a more gentle approach to help you get out of pain and feel rejuvenated.

We have classes that emphasize rest and good night's sleep that will balance your nervous system. 

We have classes that emphasize breath and mindfulness to help you manage your stress. 

Our approach to yoga is unique in that we acknowledge and address your needs and adapt the practice accordingly
How you feel – and what you need – changes each day. 
At Adeline Yoga, we aim to educate our students to develop a sensitivity and awareness to their own personal rhythms so that they can skillfully choose which classes to attend each week. 
As students develop experience with Iyengar Yoga, we have workshops and immersions to help you take your practice even further.  
With many different options to focus on your different needs, you will find yourself engaged and intrigued. We're here for you, the teachers, the staff and the community.  We all LOVE Iyengar Yoga.  We experience the benefits of it every single day and will root you on, every step of the way!
I'M READY TO TAKE THE FIRST STEP!
How it Works
1:
Get Connected!
We know that reaching out to us can be the hardest part. You don't need to get flexible or strong to reach out. We make yoga fun and accessible in a non-intimidating environment while providing modifications and adaptations so that you can begin exactly where you're at without feeling judged or nervous. Getting started just means taking the first step to reach out to us. 
2:
Get Personal
Taking the first step is always the most important step. Once we have connected, we work together with you to find the right schedule and frequency of classes to meet your goals.  We are here to help you navigate through your daily life and the priorities you are already juggling.
3:
Keep It Up
You will feel a difference after the first class.  Students often tell us that after one class they feel that their emotional load is lightened and they become a calmer, better  version of themselves.  However, we all know that when it comes to the body there are no quick fixes.   
We want to help you find real and lasting results – helping you get out of pain, develop better stress management techniques and simply learn how to rest – really truly rest.  Our approach will support you and keep you motivated as you transform your body, your health and your life.
I'M READY TO TAKE THE FIRST STEP!
Our Story
Adeline Yoga has been  a community-based Iyengar yoga studio based in South Berkeley since 2006.
 We serve as a beacon for Iyengar Yoga students who come from around Northern California.  With our online programs we serve people around the world including Germany, Saudi Arabia, Morocco and Japan.
The Mission of Adeline Yoga is to provide a safe place where anybody regardless of age, ability or health status can experience the transformational qualities inherent in the yoga practice. Our faculty of 18 teachers  are all dedicated students of B.K.S. Iyengar who teach with compassion and integrity.
Adeline Yoga believes it is important to play an active role in developing the strength and resilience of our communities, both locally and globally.  We directly offer community classes, pay-what-you can options and other affordable programming.  Locals will often see us offering free yoga at the Tuesday Farmers Market and at the festivals in our neighborhood.  
We are a community of teachers and practitioners committed to achieving our highest potential, both individually and together.  Adeline Yoga is committed to looking at and acknowledging the ways race, class, sexuality, gender identity, body positivity, physical access and neuro-diversity shape us as yoga practitioners and human beings, both individually and in community.  In these ways, we are committed to co-creating an inclusive environment to grow, learn and thrive together.
If you are not sure whether or not you're ready to begin, that is ok! If you need extra support, give us a ring at  (510) 982-1873.
 Your job is to decide when you're ready.  Our job is to help you once you have made the decision to reach out. If now is not the right time, you can join our email list to find courage, and motivation – plus tips for small changes you can make on your own until you are ready.
Click here to join our supportive, encouraging email community.