by Ana Frenes
In her new book, Restorative Yoga For Ethnic and Race-Based Stress and Trauma, Gail Parker demonstrates how yoga can heal those who are living with the trauma of ethnic and race based stress. She does so by drawing from her experience as an African American woman, licensed psychologist and yoga therapist. Although her focus is on restorative yoga as a tool for recovery, she integrates yoga philosophy as a means in which people of all races can utilize to create a community of acceptance and understanding. Her book is informative in terms of ethnic and race based stress and how it impacts everyone in a yoga community.
This book invites yoga teachers, therapists and students to look at how a racialized world affects each of us. Readers are asked to go deeper into self-study and self-care in order to examine how their own racial, ethnic, and cultural context influence experiences and perceptions of race and ethnicity, stress and trauma. It is about working together to alleviate the wounds of racial distress.
Gail tells her story of growing up during the 1960's and how childhood and college experiences caused racial wounding. She later studied yoga with a master teacher and through her teacher training she discovered restorative yoga. This is where she realized that restorative yoga had much to offer to those suffering from trauma associated with experiences of racial events that are negative and emotionally painful.
She emphasizes the ethnic and racial diversity in the yoga world and the presence of race based trauma in that world and how lack of awareness can cause more harm. Examples are given illustrating events in yoga spaces in which this happens. The need to deal with our discomfort regarding issues of race and ethnicity by using constructive, non-defensive and non-avoidant ways is expressed in clear terms. Gail believes it begins with self study and personal transformation.
In her book she describes the Race-Base Traumatic Stress Injury Model and how it differs from PTSD. She defines high-effort coping and how it affects the health of African Americans. She also references yoga Sutra 2.46 which supports the value of yoga to "invite firmness with softness, rigor with ease, and the permission to let go." Finally, she describes how restorative yoga works with the nervous system to provide deep rest which is beneficial for people who are chronically stressed.
Gail goes further to examine the koshas and samskaras in order to identify where emotional injury lands in the body and how to ease the physical and psychological impact on individuals. She explains how the comfort of stillness in restorative yoga helps one to feel safe with less reactivity. She later references the Kleshas as a way to identify our obstacles that prevent us from seeing without prejudice. She defines and identifies cultural conditioning, group dynamics, white fragility, acculturation, and blind spots as barriers that influence our perception of race and identity.
Gail gives insight on creating communities of care which provide a sense of connection and relationship designed to meet the common needs of its members. Intentional yoga communities that address and heal the wounds of racial distress understand that it is the responsibility of all members. She suggests that the foundation of caring communities are based on Pantanjali's Yoga Sutra's eightfold path to living.
The concluding chapters define yoga as a spiritual path and a way to view the human race as one family where we can acknowledge and appreciate each other's differences. She explains how the Gunas are imbalanced by stress and trauma and defines spiritual activism as making peace with the present situation before taking action. Spiritual development is explored, as well as the power of stillness where spirit meets activism.
The final chapter describes Restorative Yoga and mediation in which Gail gives suggestions for teaching and practice. She provides descriptions of restorative poses, breathing exercises, meditations and Yoga Nidra. She also gives recommendations on how to create a restorative yoga class. Although this information is provided in a general manner, Gail has followed with another book, Transforming Ethnic and Race-Based Traumatic Stress with Yoga.
I was interested in reading this book after taking one glance at the cover. My first experience in teaching yoga was with high school students who were predominantly Mexican and African American. I found the illustration to be so familiar. I remember the relief and transformation yoga asanas provided for those students. I never expected to discover a writer with such in depth knowledge on how yoga can help heal individuals suffering from race based stress and trauma. Each chapter provides a reflection and discussion at the conclusion which was incredibly helpful to me, as a person of color, to understand my own perceptions of race and yoga. Several years ago, I participated in Adeline Yoga's study group of this book. It was there where I gained insight on other yoga teachers/students perceptions of their role in the yoga world in relation to the topics of discussion. I would recommend this book to anyone who would like to become more informed on ethnic and race based stress as well as to continue on a path of self transformation.
Gail emphasized that it is more than just including all races in yoga spaces but also finding ways to work with internalized racial biases by offering classes and workshops which address these issues. Over the years I have observed how Adeline Yoga Studio provides these opportunities for its members and am grateful to be a part of this yoga community.
ABOUT THE AUTHOR OF THIS PIECE: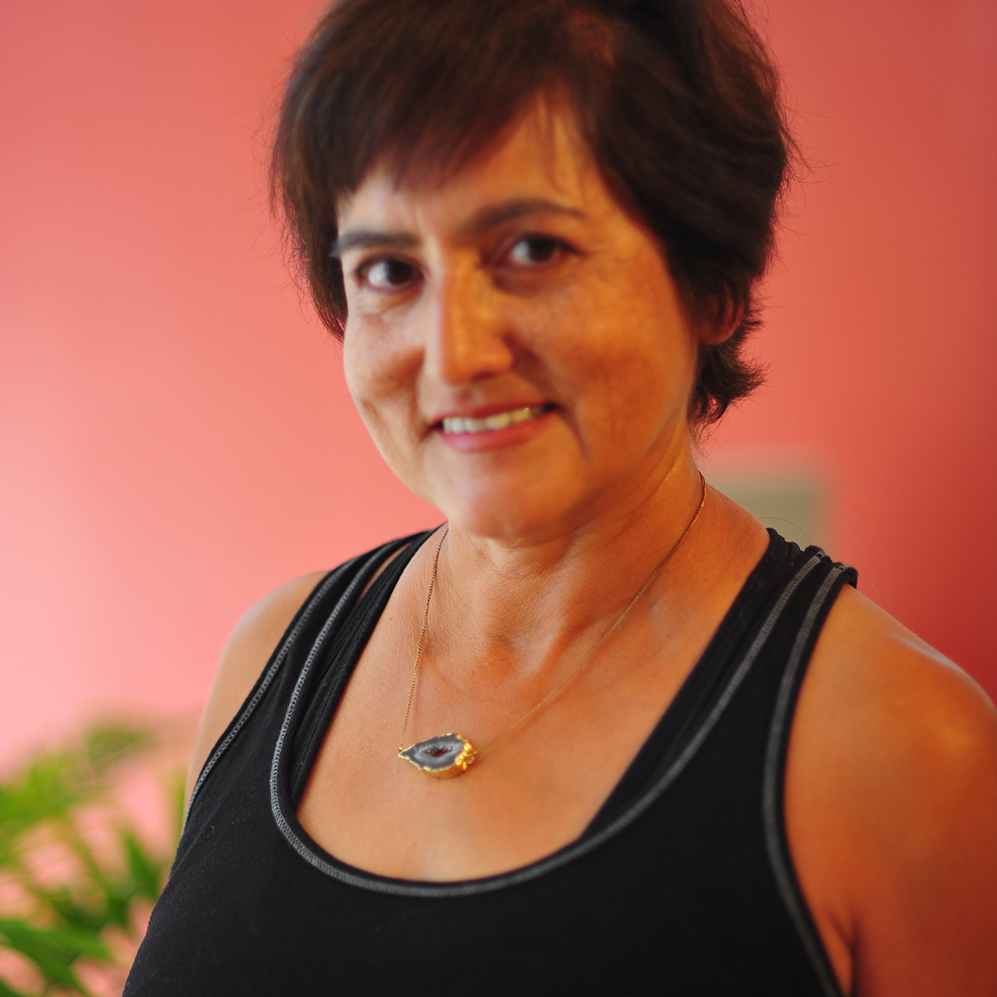 Ana Frenes (she/her) is a recent graduate of the Adeline Yoga Sadhana Studies program. She finds practicing Iyengar Yoga to be a life-changing experience. She is inspired by the Iyengar family legacy and those who have studied with them. As a modern dancer/choreographer for over 30 years, she loves the attention to body alignment and the many possibilities in approaching movement while in the poses that Iyengar Yoga provides.
Ana decided to become a yoga instructor after introducing it to her high school dance students. She saw how it transformed them and remains passionate about teaching yoga to diverse populations. She is a certified ChildLight Yoga4Classrooms teacher and holds an MA in Arts Education. She has taught yoga to hundreds of K12 students in Stockton Unified School District. Ana previously instructed yoga at the Stockton Yoga Center, CAL Berkeley Lair of the Bear family camps and San Joaquin Delta College. She presently teaches at Tree of Life Yoga in Emeryville. She plans to become a certified Iyengar Yoga instructor and continue her studies with her mentor Heather Haxo Phillips. Ana finds joy in spending time with her 8 year old grandson while gardening, tap dancing and riding scooters.