Caring for Neck and Shoulder Pain
February 15, 2021 @ 5:45 pm

-

7:15 pm
Mondays 5:45 – 7:15 pm PST

Starts January 4, 2020
with Heather Haxo Phillips and Shari Ser
This is a unique course offered in three parts that includes asana and anatomy.
You may take one, two or all three parts
This course will be held live on zoom.
Part 1:  Addressing your neck and shoulder pain
Mondays January 4 – 25 from 5:45 – 7:15 PST
with Heather Haxo Phillips
Do your shoulders and neck bother you? Would you like to get rid of the pain? This 4-session course will help you manage problems in the neck and shoulder areas that are causing you pain.  After this course, you will have learned techniques that can help you feel more relaxed during the day and sleep better at night.
Over the four sessions you will learn poses that you can practice on your own specifically for neck and shoulder issues.  And, you will learn some modifications you can do in regular yoga classes.
This series is for people who have been practicing yoga regularly for at least 6 months.   Every session builds on the previous class, so it is best if you can take all four.  Drop ins will be allowed if that is needed. Recordings will be made available to those who register.
Tuition:  Use your membership or class pass.  Or drop-in for $22
You must register for every class that you plan to attend. 

Part 2:  Anatomy of the neck and shoulders
Feb 1st and 8th from 5:45 – 7:15 PST
with Shari Ser
Anatomy is fun and fascinating, especially when you have learned the movements in your body and on your mat! You will learn more what is actually happening inside the body when you have injury or pain in that area.
These two sessions will cover the bones, muscles and joints upper back, neck and shoulders.  We will look at planes of movement, what is healthy and unhealthy movement.  We will take a deeper look at the poses taught in part 1 to understand the effects on our anatomy.
Part 2 will be primarily lecture and a group discussion. To participate in part 2, you do not need to take part 1 though it is strongly advised. Recordings will be made available to registrants.
Tuition:  Use your membership or class pass.  Or drop-in for $22
You must register for every class that you plan to attend. 

Part 3:  Teacher education
Feb 15th and 22nd from 5:45 – 7:45 PST
with Heather Haxo Phillips
Part 3 is a forum for teachers and aspiring teachers that want to learn how to apply learnings from part 2 and 3 with their students.
In these two longer sessions, you will learn how to modify specific poses for individuals and an entire class.  We will especially cover basic modifications for shoulderstand and headstand.  And, we will look at modifications for standing poses, back extensions, forward extensions and twists as time allows.  These will also focus on teaching skills – particularly observation, instruction and correction for neck and shoulder pain in these different types of poses.
This teacher education portion offers a unique opportunity to complete a practicum.  The practicum assignment is to teach a sequence to someone with neck and shoulder pain and document the experience.
To participate in part 3 of this course, you must have participated in parts 1 and 2. Recordings will be made available to registrants.
The learning objective in this course is that participants will be able to help their students with neck and shoulder issues.  This includes
Knowing which poses are appropriate and which are contraindicated.
Ability to help individuals and also guide a group through a neck and shoulder sequence.
A tool kit of corrections and modifications for level 1 poses in order to help with pain and injury in the upper body.
Our textbook for this course will be Iyengar Yoga Asana Alternatives: Neck and Shoulders by Lois Steinberg.  Participants in part 3 should also have an anatomy book such as Anatomy of Movement by Blandine Calais-Germain.  Students local to the Bay Area can buy Lois' book here.  Students outside of the Bay Area should purchase it directly from Lois here.  Short reading assignments will be given during this course.
The entire 13-hour course is registered as an ongoing education program with the International Association of Yoga Therapists (IAYT).  It is IAYT approved as an APD-designated course.  Participants who complete all eight sessions and the practicum will receive a IAYT Certification of Completion.  CIYT and RYT may also use this course for their on-going education requirements with IYNAUS and Yoga Alliance.
Tuition:  $85 for part 3 which includes two 2-hour sessions and the practicum.
You must register for every class that you plan to attend. 

Cannot attend the whole thing?
Drop-ins are allowed for parts 1 and 2.  Students may use any regular Adeline Yoga class pass or purchase a $22 drop-in to attend.  Please note that Part 3 is open only to those who took all of Part 1 and 2.  And, it has a separate cost.
Make sure you register for each class before it starts.  Thirty minutes prior to class you will receive a unique zoom log-in and specific instructions to login to your class.
First time on Zoom with us? Check out our tip sheet! Our tips will help you get ready for your first class with us.
ABOUT THE INSTRUCTORS:
Heather Haxo Phillips is Director of Adeline Yoga and a certified Iyengar yoga instructor at the Senior Intermediate I (Level 3). Among the highest certified Iyengar teachers in the East Bay, her additional certifications include:  Certified Yoga Therapist (c-IAYT), Relax and Renew restorative yoga teacher and Yoga Alliance E-500 level instructor. She has specialized yoga therapy training which includes scoliosis, musculoskeletal injuries and pain management.  One of her asana-related specialties is women's health. Heather has a deep commitment to the ancient teachings which includes mantra sadhana (chanting) and Sanskrit, pranayama and yoga philosophy.  You can expect to find aspects of this in all of Heather's classes. Heather studies regularly with senior Iyengar teachers, Sanskrit and Vedic scholars, and directly with the Iyengar family in Pune India. Heather is past President of the Board of Directors for the Iyengar Yoga Association of Northern California and volunteers for several committees for Iyengar Yoga National Association of the United States.  Heather is on the board of the Lorin Merchants Association (LBA).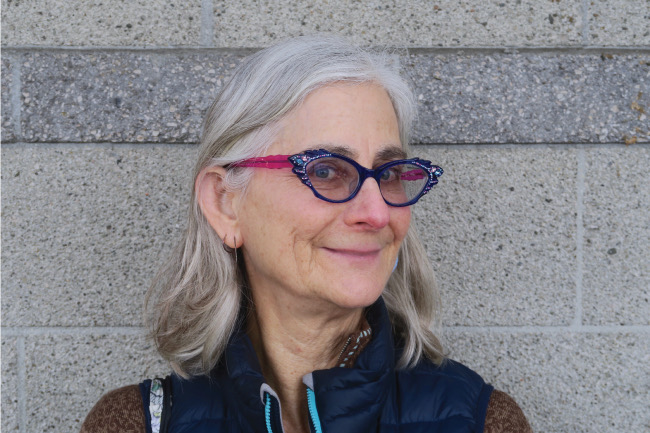 Shari Ser is a Certified Iyengar Yoga teacher, a physical therapist and certified yoga therapist. She has over 35 years of both physical therapy clinical practice and experience teaching yoga for a wide range of medical and health conditions. Shari works full time as a physical therapist and yoga teacher. She is also a faculty member of Adeline Yoga's Sadhana Studies Program. Shari is a certified trainer in Dr Loren Fishman's Yoga for Osteoporosis method and teaches an ongoing Yoga for Healthy Bones at Adeline Yoga. She is a graduate of the Professional Yoga Therapy training for health care professionals, and the Adeline Yoga Sadhana Studies Program. Her additional certifications include RYT 500, E-RYT, C-IAYT and PYT. Shari is an avid believer of the power of yoga throughout the years and of its immense value in maintaining mobility, independence and equanimity as we all age.